The OSHA Sanitation Standard for Construction (29 CFR 1926.51) requires employers to provide accessible sanitary facilities for all personnel and to ensure that these facilities are maintained in an appropriately clean and sanitary condition.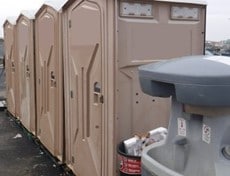 Sanitary and healthy workplace conditions promote a productive work environment and ensure the health and welfare of workers. This fact sheet is intended to alert workers to the OSHA requirements for toilets at construction jobsites, and to suggest employer best practices for improving sanitary conditions at these sites for both men and women.
OSHA Standard
Employers must provide a minimum number of toilets for workers according to the following table:
| | |
| --- | --- |
| Number of Workers | Number of Toilets |
| 20 or less | 1 |
| 20 or more | 1 toilet seat and 1 urinal per 40 workers |
| 200 or more | 1 toilet seat and 1 urinal per 50 workers |
A toilet, by definition, has a seat, while a urinal is a stand-up bowl for urination. Most portable toilets have both a seat and urinal, but some units have one or the other.
Worksite Sanitation Evaluation
It is important to remember that OSHA requirements are the minimum standards with which employers must comply. Employers should evaluate each worksite and its facilities to ensure working men and women are provided with safe and healthful working conditions.
Best Practices
Toilets should provide privacy, including locking systems, and should be separated by gender.
Toilets should be no more than 10 minutes from where workers are assigned to work. Employers should consider a worker's total travel time, including descending from work platforms, etc.
Additional toilet facilities may be appropriate if several workers will need to use the restroom at the same time (e.g., during scheduled breaks.)
It is important that toilet facilities be cleaned often enough to meet workers' health and sanitation needs. Employers should regularly evaluate the condition of toilets at their worksites and set a routine servicing schedule for cleaning, waste removal, and replenishment of supplies such as toilet paper and hand-cleansing agents. Servicing schedules should account for the number of toilets, workers, and shifts.
Toilets should be well lit, ventilated, and in a secure area.
Employers should also provide: Soap and water and/or anti-bacterial hand cleansers, Individual hand towels, air blowers or clean individual sections of continuous toweling, and Trash cans for disposal of hand towels and feminine hygiene products.

Note: OSHA's Sanitation Standard for Construction contains requirements for washing facilities where workers are engaged in the application of paints, coatings, herbicides, or insecticides, or in other operations where contaminants may be harmful to workers.
Covid-19 Considerations
Covid-19 has created a number of challenges for employers. One of which is ensuring employees have access to hand washing facilities and/or hand sanitizer. In addition to the OSHA requirements listed above, employers may want to consider the following:
Employers should provide employees with access to soap, clean running water, and materials for drying their hands, or if soap and water are not readily available provide alcohol-based hand sanitizers containing at least 60% alcohol at stations around the establishment for use by both workers and customers.
Facilities must support soap and water washes of at least 20 seconds multiple times a day or a similar number of uses of alcohol-based sanitizer containing at least 60% alcohol.
Place handwashing stations and/or hand sanitizers in multiple locations (including in or adjacent to portable restrooms) to encourage hand hygiene.
Depending on the size or configuration of the job site, there may need to be multiple handwashing stations available to accommodate the workforce while maintaining social distancing, and stations may need to be restocked during the course of the day to maintain adequate handwashing supplies.